Enchant connection in cannabis
Posted on February 27, 2020 by Vauxhall Advance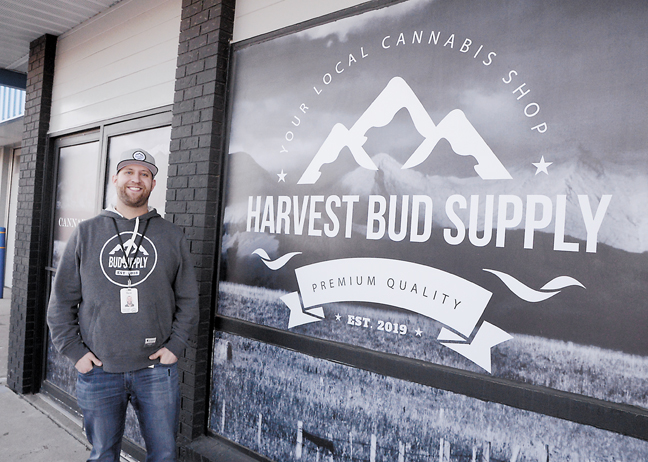 CANNABIS CORNER: Blaine Emelson (pictured) and the rest of his business associates are getting ready to serve Taber with cannabis products through Harvest Bud Supply, set to open in March. ADVANCE PHOTO BY GREG PRICE
By Greg Price and Trevor Busch
Vauxhall Advance
With Prime Minister Justin Trudeau legalizing cannabis back in October 2018, entrepreneurs saw an opportunity, and that opportunity will be making Taber history next month with the first licensed cannabis store in town limits in Harvest Bud Supply.
"Right now we are in the process of hiring and training our staff and we're really excited about the Taber location. I grew up in this area, I know a lot of people in this area. To be able to bring in a new industry in this town and be a part of the fabric of the community in creating jobs is really important," said Blaine Emelson, chief commercial officer for the Bud Supply Group. "We are excited to bring this new chapter into Taber."
Emelson has partnered with operations manager Brad Howell who has 20 years retail experience, and gave a tip to CEO and fellow founding partner Chase Bennett who dealt with the regulatory provisions that has allowed Harvest Bud Supply to be one of the first across the finish line, with multiple stores in southern Alberta.
"He is a big part of the reason why we were able to be one of the first stores licensed in Alberta with our Lethbridge location. It has given us a leg up in being able to establish ourselves in the market over that first six months when there was a licensing freeze," said Emelson of Bennett, whose wife is from Taber.
Harvest Bud Supply will have a full product cannabis line, from vape cartridges and pens, edibles, CBD oils with minimal traces of THC, to THC oils among the various products.
"One of the cool things about the vape cartridges and pens in our industry is that they are verified pure through Health Canada labs. The same labs that the Taber police use to test forensics are the same labs that are testing cannabis products that are for sale," said Emelson. "We typically like to carry around 100 different products in the store. For those consumers not looking to get the head high, we have some of those products as well (low THC). It's a huge benefit to us that the AGLC and Health Canada allow us to sell those products. For all intents and purposes, they are more of a medical product, but they allow us to carry them in a recreational store."
When Harvest Bud Supply eventually opens its doors in early March, Emelson noted an immersive experience will be offered. Legalized cannabis is still in its infancy, where veteran and novice users alike will be versed in the experience.
"We really focus on customer interaction and learning. Any way we can pass on knowledge to our customers, just so they can leave knowing something they didn't know when they came in, that can set ourselves apart," said Emelson. "Our staff (AKA Budtenders) will be trained on all the product line and will have strong interpersonal skills as communicators. With something so new to the marketplace, we feel this is something the customer is looking for."
At first, the Town of Taber was pulled kicking and screaming into mainstream cannabis acceptance, putting forth a resolution at an Alberta Urban Municipalities Association meeting to have the organization lobby the federal government to repeal the Cannabis Act back in 2018.
The town then brought cannabis land-use bylaws back to the drawing board with its previously higher-restrictive parameters in setbacks, and set higher business licence fees. But as the smoke has cleared in those initial hurdles, Emelson noted the town has been very co-operative in helping Bud Supply get off the ground.
"You have to give all the props to Chase (Bennett). He is the man who does most of our permitting and our applications and everything on the back end and he's very good at what he does. Getting into Taber, we didn't find too many roadblocks. We found a suitable location with the setbacks and we got lucky with this location. We got a location right on the highway by 7-11," said Emelson. "Once the rules changed in town, we were set to move forward. We didn't have a lot of trouble and our meeting with town council went really well and our landlords have been great."
Emelson hopes Harvest Bud Supply can be a trailblazer in ending the stigma that perhaps shackled the town's initial hesitation into cannabis-related businesses, with their knowledge base.
"We just want to make sure we do it right, with people getting proper service and proper knowledge. We want to change people's perception. With our clientele, we see all types of demographics. It's right from the retired folks who are looking for something for pain relief, to your professionals who want to relax after work, and you see your cannabis connoisseur who has been using cannabis for years," said Emelson. "One of our tag lines is we want to provide people with a refreshing look at cannabis. Anything we can do to help with the perception and wrap people's minds around legalization is important. We want to be leaders in the industry in that way."
Located at 5014 46th Avenue, just off Highway 3, Emelson added owners are ecstatic about the location, with stores already up or planned in Lethbridge, Pincher Creek, Claresholm, Fort Macleod and Vulcan. Harvest Bud Supply is the fourth cannabis store in the chain, with initial expansion plans upping it to six.
"A part of our business plan in smaller towns is to own the highways. So owning Highway 3, owning Highway 24 and doing as much as we can getting up on Highway 2, we just want to have easy access for people. We've already found people pulling on the door handle here to see if we are open. People are seeing us and knowing that we are here. They are excited to see the Coming Soon sign switch to open," said Emelson.
The corporate name is Bud Supply Group, with each store having its own unique name geared towards the city/town the store is in, coming up with Harvest Bud Supply for Taber. Bud Supply Group got in on the ground floor and was among the first 65 stores licensed in Alberta, in which Emelson estimated it took about 18 months from initial planning to licence state.
"We do put a local spin on each one of our stores. I grew up in Enchant and played football for the Rebels, going 13-0 with one of the best teams in history. We harvest sugar beets, we harvest corn, and that's oil around here, so Harvest was the perfect name for the store," said Emelson.
Harvest Bud Supply is scheduled to have a soft opening on March 12, but if things line up perfectly, they are aiming for March 7 as a possibility. There will be two to three people on the floor at any one time, with Harvest Bud Supply planning on employing between eight to 12 people.
There have been two additional previous licenses issued by the town for cannabis businesses with their status still up in the air.
"They're still existing on our books, not rescinded. I think everybody is just waiting for their AGLC permits," said said Town of Taber CAO Cory Armfelt. "Development permits time out after a year, so depending on when those originally came through, I think we're getting close to a year probably on a couple of them. That year is probably coming to an end, but then those people could re-apply and continue with an extension. We've approved them, deal with the AGLC, and open your storefront once all of your provincial permits are in place."