M.D. of Taber examine new road ban rule changes due to pandemic
Posted on May 14, 2020 by Vauxhall Advance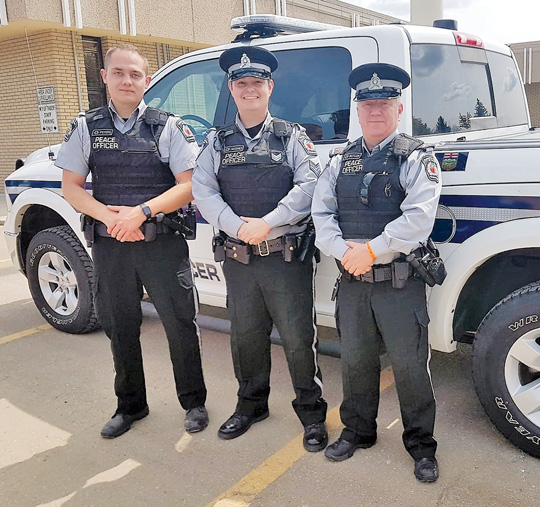 ADVANCE FILE PHOTO
By Cole Parkinson
Vauxhall Advance
cparkinson@tabertimes.com
The Alberta government has changed a few regulations in regards to commercial trucks bringing essential materials during the COVID-19 pandemic.
During the Municipal District of Taber's regular meeting held on April 14, council questioned how these changes would affect the municipality and their infrastructure.
Some of the rules being changed include longer working hours for drivers (as long as safety rules are being maintained), increased weight of loads some vehicles can carry, exemption from road bans and exemption from municipal bylaws that put restrictions on the hour's drivers work and where they can park.
"The province has announced some changes to weight restrictions. How is that going to affect this?" asked Coun. Brian Brewin.
"Myself and CPO Peters sat in on the meeting on Thursday to basically hear the Solicitor General and the government changes on some of those bans as it rolls out," replied Kirk Hughes, CAO sergeant and director of community safety. "As you are probably aware, it has to do with some of those trucks who park in places we normally don't allow them to park in. A lot of it has to do with extended hours and some overweight loads."
Hughes also explained the rules will be brought forward to administration for further implementation.
"From there, we will pass it to the CAO to determine our enforcement strategy moving forward," said Hughes. "A lot of the people we have spoken to have been pretty good at following the rules. I think it is a matter of determining what the government's priorities are and ensuring those priorities match those with the M.D. of Taber. We can work that out together with the CAO. And then education and an enforcement strategy."
With essential services being exempt, council also brought forward the question around what is considered essential and what's not.
"They are talking about essential services being exempt. I guess what the question is, is what is an essential service? Some of the concern in central Alberta is a lot of their crops haven't got off from last fall and they are trying to seed and harvest at the same time. Have you got a definition of that yet?" asked Brewin.
"We don't (know). I don't think the government has (a definition) for essential services. However, the information passed down to my peace officers is that, and it will continue to be, that common sense approach. We are in unprecedented times and what we don't need is any more economic impact, more than what we are already seeing, in the M.D. We will make sure that as long as the vehicle itself is safe and can be driven on the road, and things aren't grossly overweight to the point of damaging our infrastructure," answered Hughes, who also touched on the agricultural industry which plays a large part in the municipality. "I would say farmers and seeders would be number one on that list, next to the emergency services themselves."
While these new rules from the United Conservative government will be implemented, there is still the danger of damages to M.D. of Taber infrastructure. With that in mind, another question around who would be responsible for paying for any damages that may occur was present.
"If somebody chooses to go 100 per cent using the provincial guidelines and ruins one of our roads, who is left on the hook for that road?" asked Brewin.
"I think once the province passes down some more information and some more solid direction, we will have that information for you," replied Hughes. "As it stands, our road bans have been put in place, as you are aware, to protect our infrastructure."