Taber Lost Paws foraging for more facility funding
Posted on July 1, 2020 by Vauxhall Advance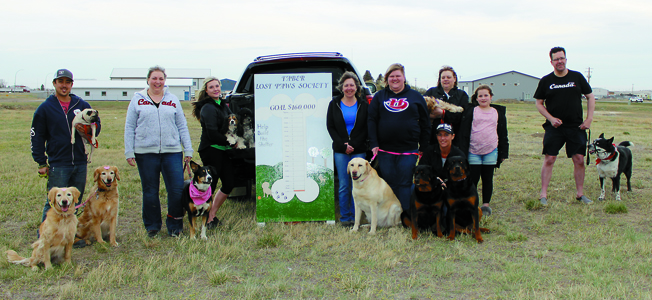 ADVANCE FILE PHOTO
By Cole Parkinson
Vauxhall Advance
cparkinson@tabertimes.com
As the Taber Lost Paws Society continues to sniff out additional funding for construction of their facility, they set their eyes on the Town of Vauxhall.
Being close to Taber, Lost Paws put out a request to meet with town council to gauge their interest in using the facility once constructed.
With the Town of Taber already on board and the Municipal District of Taber council in talks to use the facility, the group was a delegate at Vauxhall town council's regular meeting on June 15.
"We created the Lost Paws Society in Taber and what we are doing is, we are building a proper dog shelter in the community. We have partnered with the Town of Taber and we are working on a partnership with the M.D. of Taber. We want to work with Barnwell as well, and we wanted to bring the Town of Vauxhall into it. We want to encompass all of Taber, not just the town but the M.D. as well," explained Lila Hein of the Taber Lost Paws Society. "We are currently asking Vauxhall for a yearly donation of $2,500. With that, we would run the same program as we would with the M.D. The dogs would come into us and we would house them for three to five days based on what your bylaws require, the Town of Taber is five and the M.D. is three. We charge a per diem a day for the dog while we have it in custody and that is the bylaw cost. If your bylaw states only three days, after three days the dog would then be surrendered to us. We would vet check it, temperament test it, foster it out to homes and then look for a permanent home for it."
Lost Paws has secured a contractor for the project and estimate cost is $225,000 with the Town of Taber providing a capital expenditure of $100,000 and the group is hoping to raise an additional $160,000 on top of that.
During their first fiscal year, their volunteers were able to raise approximately $110,000.
Last month, the society put down a deposit of $20,000 so production can begin on their facility and they hope to be done construction this September with it being fully operational by December.
"If we were to partner, does that mean council gets a position on the board? Or is it just to be included in the facility?" asked Mayor Margaret Plumtree.
"It would just be included in the facility," replied Hein.
"Then what we would do is create an MOU (Memorandum of understanding) with your community, like we have done with the Town of Taber. It is basically just an agreement that we will continue to care for the animals and work as a team, it's just a partnership agreement. We would take members though if anyone would want to join us. We are more than welcome to have members."
With construction set to take place later this year, the group is still mainly focusing on attaining the remaining funds needed to completely cover the costs.
While they are on their way to completing that portion, they also addressed a question that has arose over the past several months around housing animals other than dogs.
"Right now our main focus is just to get the building up and running. We keep getting asked if we are going to work with cats and that's just not something we are looking at at this point in time. We are just not prepared to build that kind of facility because cats are a long-term endeavour. There is an organization in the area — Last Chance Cat Ranch (Taber)— that runs pretty successfully with cats. We don't want to be stepping on their toes," continued Hein.
While council was in favour of what the group was doing, they weren't entirely sure they would need to use the facility as much as the cost warranted.
"We have more issues with cats than with dogs," stated Coun. Linda English.
Administration also answered a question on what is typically done with strays that are found within town limits.
"When we used to share bylaw with Bow Island, we did utilize a facility in that direction, it was part of the partnership. So, my understanding is we don't have a facility we utilize anymore," said Plumtree.
"We have taken some animals to the vet in Taber. Our bylaw officer takes animals to Brooks and they adopt them out at no cost of the town," explained CAO Cris Burns. "Most of the stray dogs come from out of town. That's our experience, they are country dogs."
Other councillors were in favour of not contributing if the town didn't have a major stray dog issue.
"From my perspective then, there really isn't much of an issue with stray dogs," said Coun. Richard Phillips.
"If we don't have a need for it, it may not be worth the investment from the town," added Coun. Kim Cawley.
A motion to inform Lost Paws that the town wouldn't be participating was carried.