TDHF planning drive-in concert
Posted on October 1, 2020 by Vauxhall Advance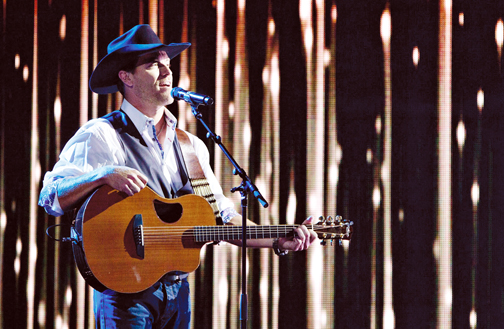 George Canyon performs during the Canadian Country Music Awards in Edmonton, Alberta on September 8, 2013. One of Nova Scotia's best-known stars is trading life on the country music circuit for the political circuit. George Canyon has announced he's running as a Conservative candidate in the riding of Central Nova in the upcoming federal election. THE CANADIAN PRESS/Jason Franson
By Cole Parkinson
Vauxhall Advance
cparkinson@tabertimes.com
Turning the calendar to fall usually means preparation for the Taber and District Health Foundation's annual telethon, but as 2020 continues to be an odd year, things are changing.
Due to the COVID-19 pandemic, the TDHF telethon has been cancelled but a different event is on the horizon for late October to help raise funds for the organization.
On Oct. 24, George Canyon and Aaron Pritchett will head to Taber for two performances at a drive-in concert and a delegation from TDHF was in Municipal District of Taber council chambers asking for financial and set-up help.
"Funds that come to TDHF through the residents of the M.D. of Taber and the Town of Taber do stay within the town of Taber and it's supporting our local health centre to make it the best place we can have. As opposed to always having to travel to a city centre," explained Vicki Koersen, executive director, Taber and District Health Foundation.
"We would really like your sponsorship support for an upcoming concert that we are going to host. What we are looking for is financial support but I do realize there are financial challenges in this COVID year."
Sponsorship amounts for the coming event range from $500-$10,000.
Originally, the group had hoped to bring in Taberite Corb Lund for the concert, but scheduling issues arose and the organization was able to rebound with equally impressive country musicians in Pritchett and Canyon.
While financial support was requested, Koersen highlighted the fact the organization knew the M.D., along with several southern Alberta municipalities are facing large challenges.
If no money could be forwarded for the event, she hoped they would be able to help in several other areas and to help get the word out about the event.
"That would be social media and event promotion through your own personal pages — Facebook, Instagram, Twitter — whatever you do. We would also appreciate if you could attend the concert," she said.
On top of promotion, she asked if M.D. staff could help get the Taber Agri-Plex prepped for the drive-in concert.
"We know you have a role with the Agri-Plex so we're wondering if there is a possibility you could help with site preparation. What that looks like is painting the parking lines or mowing the grass. And let's cross our fingers that we aren't shovelling snow," stated Koersen. "Something else we are looking at is if you could loan us the safety vests you have for your maintenance crews and flashlights. We'd be using those for volunteers and parking volunteers."
Tickets are scheduled to go on sale this Friday online at $105 per car for standard tickets and $130 for VIP which enables cars to park closer to the stage. Koersen also stated she expected roughly 160 cars to be able to attend each performance. Another method of fundraising the TDHF is exploring in place of the cancelled telethon is a 50/50 draw that will be going live in the near future.
"It's only going to be the concert but there will also be an online 50/50 that we will promote the day of," explained Koersen.
M.D. councillors discussed the various requests made and while they had no problem with in-kind donations, the financial asks were less ideal.
"I don't have a problem with helping out but I'll be honest, I do have a problem with a cash amount. We have so many great events around the community that are requesting money. I mean, we support it all the time but I'm not sure this falls under a taxpayer responsibility," said Coun. Brian Brewin.
Other councillors agreed with Brewin's assessment.
"I think it's a great community event but we still have to be aware of time constraints and the budget," added Coun. Tamara Miyanaga.
A question was posed to administration if M.D. workers would have enough time to help set-up the area for the concert.
"It would probably be a combination of (public works and ag service board)," replied M.D. CAO Arlos Crofts.
With painting of lines for parking cars and mowing grass at the site requested, administration further added they would do whatever council directed.
A motion to supply in-kind support required for the Taber & District Health Foundation drive-in concert event including site preparation such as line painting, grass mowing, safety vests and flashlights, and that the event be advertised on the M.D. of Taber website and social media sites, was carried by council.