Shields discusses proposed new federal election boundaries
Posted on September 12, 2022 by Vauxhall Advance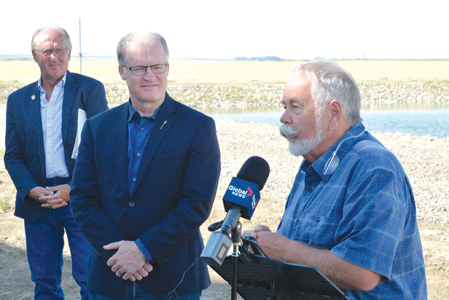 ADVANCE FILE PHOTO
By Ian Croft
Local Journalism Initiative Reporter
news@tabertimes.com
As the population within Canada grows, committees reevaluate federal voting districts to ensure that everyone is properly represented across the country. The most recent plans for these voting districts have the town of Taber leaving the Bow River riding. 
"Every 10 years they look at the population and every province they set up has a boundary committee," said Shields. "Alberta has a boundaries commission, so every province has it, and every province has started the process of looking at the population, looking at where they may need to adjust it. Decades ago, the Supreme Court ruled that ridings couldn't be different more than plus or minus 25 per cent. Every commission and each province can determine their plus or minus for what they want to sit in their particular province. Alberta's boundaries commission has set it at plus or minus five per cent, that can't be any different than that."
Shields continued by discussing where people can give input on the new voting districts and when they will be coming into effect.
"They drew maps based on that and those are the maps that are out. Now, they're looking for feedback on that map they've put out there, and there are going to be hearings that people can go to in Medicine Hat, Lethbridge, Calgary, and Drumheller in this area, but they are going to have hearings where you can go, and talk to the commission about what you think of the boundaries. You can also send in what you think should be done, or whether you agree with it, or maybe just adjustments you want to see. Once they get all that feedback, they will then take a look at the boundaries, and see if they want to change them based on the feedback they've received. It takes quite a bit of time to do all of this because they've worked almost a year to get the draft-up maps that we see now. They started working a year ago, and that's happening staggered all across the country — Ontario maps just came out last week, whereas Alberta's map has been out there for a few months. The timeline for this to be totally done is set by Elections Canada for April of 2024. If an election is called before April of 24, it goes by the old boundaries. If this gets totally done by April of 24 and an election is then called after that, we'll go by the new boundaries."
To read the full story, pick up a Vauxhall Advance issue or subscribe to an ePaper digital subscription! You can sign up for digital or traditional subscriptions on vauxhalladvance.com by clicking subscribe under ePaper on the home page.