Toronto Blue Jays loading up for 2021
Posted on January 28, 2021 by Vauxhall Advance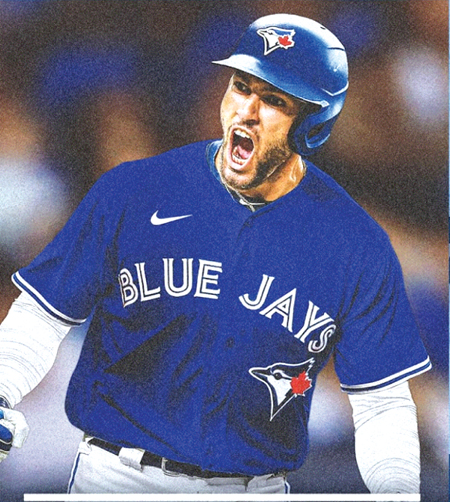 Photo courtesy of mlb.com.
By Cole Parkinson
Vauxhall Advance
cparkinson@tabertimes.com
Toronto's outfield is about to get a whole lot better come 2021 with the contract handed out to George Springer.
After Randal Grichuk patrolled the majority of games in centre field in 2020, bringing in Springer is a massive upgrade and will help on both sides of the ball. Last week, the Blue Jays inked one of the best free-agent position players to a six-year, $150 million contract that will last until Springer is 37. And while the contract will certainly look a lot worse by the last two years of the deal, it was necessary to lock up the best outfielder available this offseason.
The time is now for the young Jays to finally start to climb up the AL East ladder that sees them behind both the Tampa Bay Rays and New York Yankees. Springer not only brings above-average defence to a shaky Toronto outfield, but he also brings a sizeable upgrade to the top of the lineup as he can hit for both average and power. While Grichuk no doubt brought his own share of pop, relying on him to get on base at a decent rate would be futile considering he's a career .246 hitter and his on-base percentage is well-below average at .295. Springer meanwhile, is a career .270 hitter with an OBP of .361.
His career Wins Above Replacement (WAR) is currently at 27.5, which is a sizeable lead over Grichuk's 9.8.
Relegating Grichuk to the fourth outfield role and occasional DH appearances may do him good, and with three years left on his over $10 million contract, I doubt the Jays can find a trade that makes sense without departing with some of their prospect capital.
So, with an outfield of Lourdes Gurriel Jr. in left, Springer in centre and Teoscar Hernandez in right, it looks like the Jays are set.
The infield still has a hole at third base, because let's be honest — Vlad Guerrero Jr. is likely to be sent back to first base at some point.
I know there's been plenty of talk coming from both Vlad and the Blue Jays staff around trying him at the hot corner again, and while he has dropped a bunch of weight, I still don't think he's good enough defensively. During the 2019 season, Guerrero started 94 games at third where he made 17 errors (second-most in the AL) and had a .936 fielding percentage. Shortstop is Bo Bichette's to lose and it certainly looks like Cavan Biggio will get plenty of starts at second and third.
Assuming Vlad is moved to first, whether it's during Spring Training or mid-season, Rowdy Tellez will also get plenty of looks at first base. Considering he's a left-handed batter with tons of power, you'd think he'll get plenty of rope in the lineup and if he's able to build on his previous season where he had eight home runs, 23 RBI and an On Base Plus Slugging percentage of .886, he will be a fixture in the top nine.
Behind the plate, Danny Jansen will likely get the majority of starts along with Reese McGuire to begin the season. Alejandro Kirk will no doubt play for the Blue Jays this season but considering he's only 21, I doubt the Jays' management staff will throw him right into the fire.
If they want another lefty power bat, outfielder Joc Pederson could fill that hole in the lineup. He would most likely need to be in a platoon situation as his weakness is hitting against left-handed pitchers.
The Jays shored up their infield by signing Marcus Semien late Tuesday afternoon to a one-year, $18 million deal. Semien looks to play tons of second base and some third when needed.
He'll bring some stabilization to the infield defense and some needed veteran at-bats to the middle of the lineup.
On the pitching front, the Jays do need another arm, and while Trevor Bauer would certainly bolster the front of the rotation, it doesn't sound like the front office and ownership want to commit to another long-term, big money deal this offseason.
Bringing back Taijuan Walker looks like a no-brainer to me. Other arms the Jays should continue to look at include Canadian James Paxton, Masahiro Tanaka, Jake Odorizzi, all of which would slot into the second starter spot behind Hyun Jin Ryu. With Nate Pearson likely on an innings limit in his second big league season, adding two starters to go along with Ryu, Robbie Ray, Tanner Roark would be beneficial. I like Odorizzi and Walker here, and both of them together likely take less cash than Bauer.
The bullpen has been bolstered with the signings of Tyler Chatwood and Kirby Yates. Yates will be relied upon at the back of the bullpen along with Jordan Romano and Rafael Dolis, and I expect they will all get some save opportunities. Otherwise, A.J. Cole, Ryan Borucki and Shun Yamaguchi look to fill some of the spots. Trevor Rosenthal, Alex Colome, Shane Greene or Joakim Soria could also be attractive bullpen arms for the Blue Jays if they want to add more relievers.
And of course, the Jays could address any of their needs through trade.
With catchers and pitchers reporting in just a few short weeks, the Jays front office still has work to do.