VAB Jets compete in first home games of the spring
Posted on April 27, 2023 by Vauxhall Advance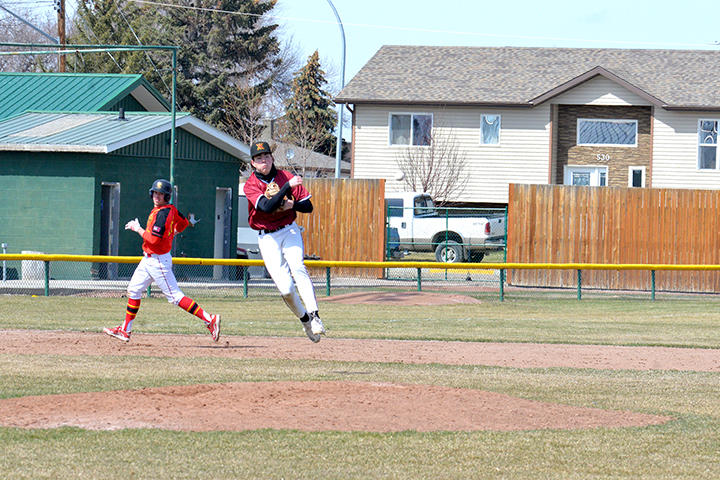 Advance Photo by Trevor Busch MID-FLIGHT: The Vauxhall Academy of Baseball's Luke Wheatley makes a throw to first for the out during weekend doubleheader action versus the University of Calgary Dinos JV squad at Jets Stadium on Saturday afternoon.
By Cole Parkinson
For Vauxhall Advance
Local Journalism Initiative Reporter
After some long road trips to Las Vegas and British Columbia, the Vauxhall Academy of Baseball Jets returned home this past weekend for a pair of doubleheaders. Looking to build on strong efforts in Vegas and B.C., the Jets took on the University of Calgary Dinos JV squad on Saturday and Webber Academy on Sunday.
Saturday started strong as the Jets climbed out to a 10-0 lead before the Dinos came storming back. The Jets were able to limit the damage and walked away with a 10-8 win on home field. Drew Lenehan got the start for the Jets while Patrick MacInnis was the first man out of the bullpen in relief. Parker Austin would then collect the save in the seventh. The Jets swung the bats well as Stevyn Andrachick went 1-2 with a double and an RBI, Colin Fisher was 2-4 with a double and an RBI, Kyle Yip had an RBI double, Brenna McTavish was a perfect 2-2 with a double and two RBI, Raphael Ranger collected a single hit and an RBI, Seth Christie went 1-3 with a home run, and Alexandre Laurence was 1-3.
After a bit of a scare in the first game, the Jets were looking to tighten things up in game two against the Dinos. While the team was able to outhit Calgary 10-5, the Dinos were able to give it right back to the Jets and took the game 10-8. Fisher was hot at the plate going 3-4 while Karsen Haney went 2-3 with a double and an RBI, Ranger was 2-4 with a double and a pair of RBI, Andrachick had a single hit with an RBI, Yip also had a hit with an RBI and Laurence went 1-3. Rory MacDonald got the start for the Jets while Brett Getz came in to finish out the game.
Sunday was a tough one for the Jets as they dropped both games against Webber Wildcats. Game one was 13-8 and game two saw the Wildcats get the win 5-4 in extras. Walks continued to be a problem for the Jets as they walked 20 over the two games. Offensively, Andrachick had three hits on the day with a pair of doubles, while McTavish, Fisher, and Yip all had two hits each, and Christie, Luke Wheatley, and Carson Boyko all had a single hit. Next up for the Jets is the Southern Alberta Prairie Baseball Academy Classic tournament in Lethbridge. 
The Jets also saw several players commit to college teams over the past several days. Left-handed pitcher Brett Getz announced his commitment to play for Division 1 Sacramento State University. Right-handed pitcher Drew Lenehan and catcher/infielder Cardel Dick both announced they have committed to Division 1 Nebraska Omaha.