African Children's Choir coming to Evangelical Mennonite Church
Posted on April 18, 2019 by Vauxhall Advance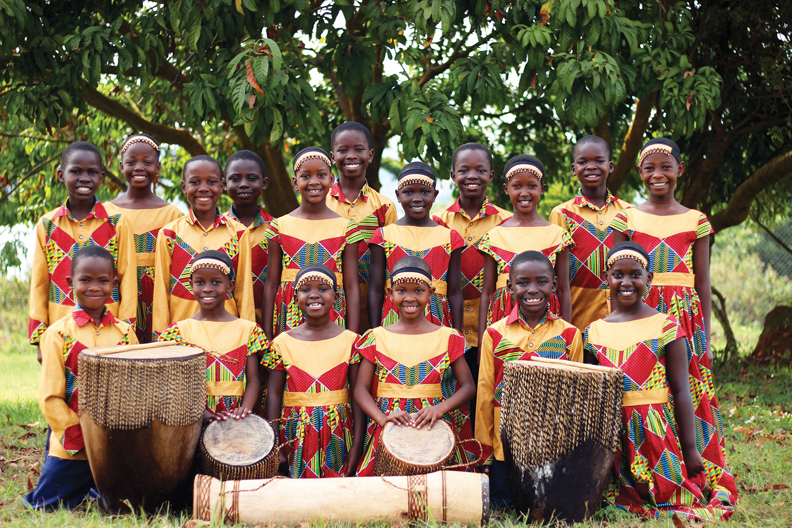 TABER BOUND: The African Children's Choir will be making their way to the Town of Taber in a matter of days to perform at the Taber Evangelical Mennonite Church with the event starting at 7 p.m. TIMES PHOTO SUBMITTED
By Cole Parkinson
Vauxhall Advance
cparkinson@tabertimes.com
Taber will be welcoming the African Children's Choir to the community as they continue to raise funds to help educate children in a handful of countries in Africa.
The free event on April 24 at the Taber Evangelical Mennonite Church is open to all and promises to bring a great show for all of those in attendance.
"It is so much more than a concert. It is a great concert but there is music and we have a new program called 'Just As I Am' which is familiar hymns that have been put to African rhythms. We had an artist in Uganda arrange these familiar hymns and they are like hymns you have never heard before. We transport you right to the shores of Lake Victoria and take you right to the heart of the jungle," explained Tina Sipp, choir manager.
"I think what really captivates people with the concert is the children are so unassuming and so innocent but yet they have this powerful message of joy, hope and resiliency. It's interesting to see how people respond to these children because they get way more than a concert, it is a soul experience."
While the concert will no doubt bring plenty of smiles to all in attendance, the main objective of the organization is to help African children get a proper education.
Following the performance by the choir, a free-will offering will be held which helps support the education programs of Music for Life.
The African Children's Choir started over 30 years ago when Ray Barnett of Vancouver was on a humanitarian trip to Uganda when he gave a boy a ride to the safety of another village.
Throughout the years, the choir has performed in front of some impressive audiences including being on American Idol, performing at Live 8 with Mariah Carey and Paul McCartney and performing for Queen Elizabeth II and Ugandan President Yoweri Museveni at Commonwealth Day in London, England.
Approximately 890 kids have participated since 1984 and 52,000 kids across seven African countries have been educated through the Music For Life program.
"Our main goal is that we are trying to help educate as many children as we can. Children that have been left in a very vulnerable situation, in impoverished homes and even government schools, there is a cost to that. These families that we are working with cannot even afford to buy school uniforms, paper, pencils and those sorts of things. Hundreds of thousands of children are left without the opportunity to actualize their potential, which they have a wealth of," added Sipp. "With some assistance, we can help them get an education and really that's the long-term goal, we are concerned about an individual child getting an education but equally concerned about the future leadership for these countries. We have this idea in mind, if you will, to raise up future leadership." 
When the group makes the trek to Alberta, Sipp says the children seen on stage are just a small number of African kids who need help getting an education.
"The children on the stage, there is 17 that will be coming to your area and those children represent a 1,000 other children back home who are receiving an education through our program every year. It is not just the children you see on stage, they are ambassadors."
Other than Taber, the tour schedule for the group is fairly long. Canadian dates started on April 4 and they are on the road until June 9 with stops in Regina, Calgary and Langley, just to name a few. Another choir will head to the United States on May 31 until October 31.
While this length of touring may seem extensive, Sipp explains they have cut back on dates compared to previous years.
"We have limited our tours to just a few months now with the increasing importance of education," she said. "Tours have shortened. They do one tour and go back and their education is paid all the way to college. How we tour is, we have different regions in the U.S., Canada and the U.K. and we rotate those. We cycle through those areas every two and a half to three years. We call churches in our database and also new churches to see if that would be something they would want to partner in."
Sipp also expressed the organization's thanks to the churches who welcome them to perform.
"We want to give a huge shout out to the local church community who come and support the children," she continued. "We couldn't do it without the church and the community. We really want to thank them for having us."
African Children's Choir will perform April 24 at the Taber Evangelical Mennonite Church.