M.D. AGM gives residents opportunity to review ATV Bylaw
Posted on May 16, 2019 by Vauxhall Advance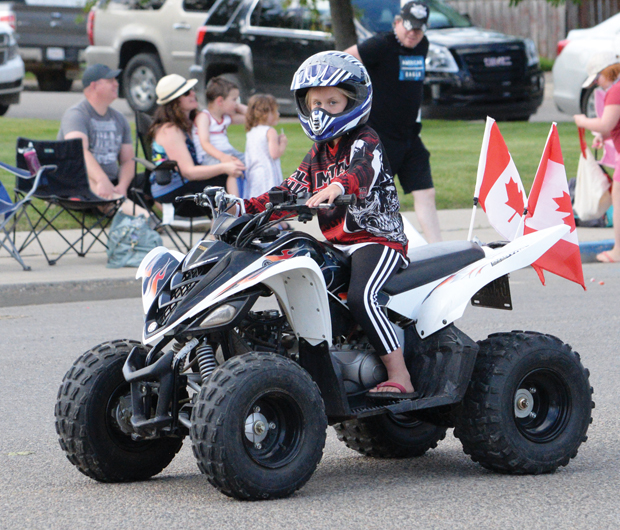 ADVANCE FILE PHOTO
By Cole Parkinson
Vauxhall Advance
cparkinson@tabertimes.com
With the most recent Municipal District of Taber Annual General Meeting, it allowed council to bring forward a bylaw they have been discussing for the past year.
The Off-Highway Vehicle Bylaw was first brought to council's attention during a February 2018 policy meeting and they have gone back and forth on whether or not it was needed in the municipality.
With that in mind, council elected to bring the issue forward to their AGM held on April 30 at the M.D. Operations and Maintenance Building.
"We started discussing the possibility of an off-highway vehicle bylaw. There are some municipalities in the surrounding area that have them and one of them is Warner. They put theirs in place last year, County of Willow Creek and County of Crowsnest Pass. Those are three that have them. We have had lots of discussion around the table and we couldn't get a consensus on whether we wanted to initiate this bylaw or not," explained Coun. John Turcato to those in attendance at the AGM. "I think right now, law enforcement has been looking the other way and I don't know that it makes it right either. We either put a law in place or we don't."
If a bylaw were to be put in place considerations would include a requirement from the Traffic Safety Act to have lights (headlights and signal lights), licence, insurance and a helmet, a maximum speed limit, operation in daylight hours and types of ATV's that are eligible to operate on roads. While councillors have been back and forth on whether or not they want the bylaw in place, Coun. Turcato sees it as a means to properly allow ATVs on M.D. roads.
"A bylaw would legitimize it or make it legal. I think it would be safer because we would be able to enforce the rules which would be speed limits, make sure they are ensured and following the rules on the road," he said.
One point of contention in both council chambers and the AGM was speed listed in the bylaw.
With a maximum of 20 kilometres an hour currently listed in the bylaw, a handful of attendees expressed the need to raise it.
"Don't make me a criminal right off the bat because a cow can chase me faster than that," said John Degroot to a laugh from the crowd. 
A few councillors at previous meetings had also stated that 20 kilometres an hour was not enough.
"I thought the 20 myself was slow," added Turcato, who was had voiced that opinion in the past.
With the discussion open to the floor, residents were able to speak on how they wanted M.D. council to proceed in regard to the potential bylaw.
"As far as I'm concerned, I don't think we really need one. I think as far as the people enforcing this, they can tell the difference between a farmer checking his pipes versus a young kid hotdogging on the road. I think if you open it up, you are legitimizing anybody to go out there," said John Nordquist.
"I believe you're right, the law enforcement can tell the difference and it would be for only business," replied Turcato.
In terms of where the M.D. was seeing problems relating to off-highway vehicles, it was explained that it was mostly within M.D. hamlets. With M.D. community peace officers on their roadways, they have experienced a considerable more amount of complaints in hamlets than anywhere else.
"We're concerned about, in the hamlets especially, some excessive speeds and interesting displays of stunting. Those are the tickets we write in regard to quads especially in the hamlets," said Kirk Hughes, Regional Enforcement Services sergeant. "We aren't picking on the farmers and the oil field guys, we understand that work has to occur."
Others were still not sold on bringing off-highway vehicle laws into the M.D. as differentiating between business and leisure could be an issue.
"I don't know how you will differentiate between business, pleasure, hunting and stunting," said Bob Wallace.