CIB influence varied around M.D.
Posted on August 22, 2019 by Vauxhall Advance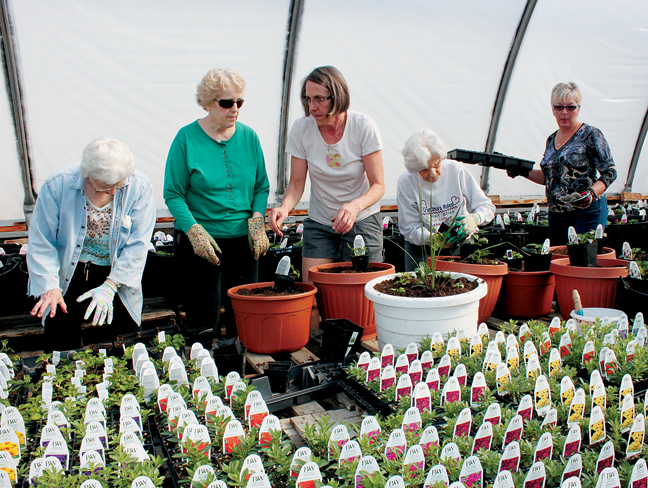 ADVANCE FILE PHOTO
By Cole Parkinson
Vauxhall Advance
cparkinson@tabertimes.com
As the summer heat continues to crank up, Taber Communities in Bloom (CIB) are keeping busy in the area.
While spring is their busy time for getting things ready for summer viewing, the team at CIB is still out and about keeping things pristine during the heat.
"We're busy. At this point in time, it's pretty well just maintenance of what we did this spring," said Jean Holman, a member of CIB.
The spring proved fruitful for the CIB members as they were engaged in a handful of activities that helped beautify the area.
A new initiative for the group included introducing school students to planting in the early spring.
"We funded and supervised the start of a small garden at Dr. Hamman School. We have four raised beds there that hold vegetables and flowers that the kids have planted. We went to the school and helped them originally plant them inside. We provided them with some grow lights so they could start inside. We went back and helped them get going and now we are watering them," explained Holman, who also stated the students would continue their work in September. "They hope to harvest the carrots they planted. That will be an ongoing thing."
While it is a first-time foray for CIB, they are confident in continuing the program and are even hopeful of expansion to other schools.
"This is our first year of doing that. Because we were frugal, we had some funds leftover and this is how we built the beds and the grow lights. The kids are enthusiastic and there are always a few teachers in the schools that really push this and work with us. This turned out to be a good project," said Holman. "It would be good if we could expand on that and to other schools, too. We just haven't got that far yet, it's in the future. We have got some parents involved and the teachers have been great."
Another project they focused on early in spring was centred around helping provide bees with places to access nectar and pollen.
"We ordered online from beesmatter.ca, we passed out 1,000 packages of flower seeds because bees need someplace to eat. We will probably do that again next year but probably not 1,000 even though we did get rid of every package, which was good. The last ones were done at the Farmers Market," continued Holman.
The group has also been working around town to make sure Taber looks its best during the summer months.
"We have 20 new planters, the big ones on 48th Street. They are doing well and we maintain those. The girls were also doing a cleanup at Central School on the east side where the beautiful flower garden is," added Holman who stated the reason for the increased interest in flowers in the community stems from word of mouth. "There are more planters around the streets and businesses and some of that is due to 'I saw my neighbours have flowers, where can I get those?' That's encouraging."
Come early July, CIB starts to focus on their yard tours and contests which are open to M.D. and town residents.
This year saw a bump in nominations which is a good sign for the group moving forward.
"We attend the Farmer's Market for about four weeks when it starts, to garner support for the yard contests we have for the M.D. and town. Also to publicize the garden tour we have. This year we had our third annual tour and the attendance was up slightly. It is turning out really wonderfully, we have some beautiful yards out there. We even ventured into Barnwell," said Holman. "This year for our garden contest in the town and M.D., we had the most nominations that we have ever had. We had 11 M.D. and seven for the town." 
As far as judging for the yard contests go, it is a fairly simple process which includes plenty of yard visits.
"We have a committee for each group, M.D. and town. It is usually three or four and we go and visit every yard. We determine all of the things they have happening that make their yards special. We make a decision and on August 26 we will have our awards ceremony at the Taber Community Centre," explained Holman.
One thing Holman wants to see in the future is further nominations from the seven M.D. divisions.
"The M.D. is a little bit more difficult because we are able to present two plaques in each division (one for 28 acres and under and one 39 acres and over) and there are seven divisions. In Division 2, which we are in, we get a lot more nominations than the other ones. We would like to see an increase in nominations from all of the M.D," she said. "We encourage people we know to either nominate their yard or to nominate a yard of a friend or someone they know who has a beautiful yard. We give them a call and say 'your yard has been nominated' and 'would you allow us to come and visit?'" 
While Taber CIB have been dominant in the provincial competition, they have decided to take this year off to recharge their batteries.
"We did not compete in the provincial competition this year. We have placed first for the last three years in a row and we just thought we would give ourselves a rest. We are still going to have our annual potluck that we always have with the judges," said Holman.
One of the projects the group is looking forward to is landscape restoration outside of the Historic Taber Courthouse.
Built in 1918, the group's goal is to make things look just as they would have during the courthouse's glory days.
"We are going to be involved in the landscaping of the restored courthouse," stated Holman. "It is going to be as much like the original grounds as possible, with added flowers. That is going to be an exciting venture. The courthouse is going to be our new headquarters, so we will have a home. The town has generously provided quarters for us to have our meetings but it is at a cost to the town so if we can find our own home it is a good thing."
Moving past that, the group hasn't nailed down any hard projects past this current year.
"We just take it as it comes. At this point, we have a lot of places in town we maintain, and of course, we plant which keeps us busy in the spring. As a project comes along, maybe someone in the town suggests (a different project) so that is what happens. We have a core group of about 25 and most come to most of the meetings. We have a full house and there is a lot of ideas floating around," said Holman.
While winter may not be looked at as a prime time for the CIB group, they still have plenty of projects they work on during the colder months.
On top of Christmas and holiday decorating around town, they also start discussing what they want to see in the coming year.
"We are planning on expanding on our Christmas lighting display in Confederation Park (this year)," said Holman. "It seems there are always plans for next year and we rehash what we have done. In September we will probably go to Lacombe to the provincial awards ceremony again because that is where you learn from sessions." 
To keep up to date on what Taber CIB is working on, visit their Facebook page.