Year in Review 2019
Posted on January 2, 2020 by Vauxhall Advance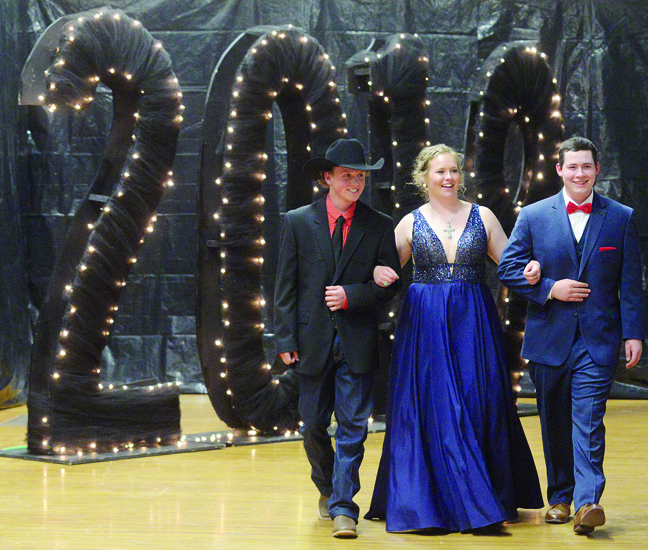 As we now close out 2019 — along with the present decade — and our topsy-turvy globe begins to spin for another 365 days, editorial staff at the Vauxhall Advance took a look back at all the news that was in our region of southern Alberta.
January 3: With 2018 at a close, the Horizon School Board got an update on their 2018-2021 three-year education plan and results of the 2017-2018 education report. "We really are focused on engaging all learners to become life-long learners and contribute as global citizens. We say all learners because it's not just about kids, it is about all staff, we want our staff to be learners as well," said Wilco Tymensen, superintendent of schools.
With the Municipal District of Taber continuing to work on their asset management project, an opportunity has been brought to council to further their efforts. Councillors were brought up to date on Rural Municipalities of Alberta (RMA), Alberta Urban Municipalities Association (AUMA) and Infrastructure Asset Management Alberta (IAMA) organizing an asset management capacity-building cohort.
January 10: Thwarted pipelines, economic distress and trade chaos may have punctuated much of the national narrative in the past year, but Bow River MP Martin Shields is looking forward to the political front and the challenge of a federal election in 2019. "I think the economy has been one of the big issues of the past year, probably more so in Alberta than in many parts of the country," said Shields.
With budget season underway for the Municipal District of Taber, their finance committee provided a list of 2019 budget recommendations to be passed by council. In the memo for the 2019 preliminary budget, the finance committee projected a $315,219 operating budget deficit which includes a non-cash expense of $4,232,077 for amortization.
January 17: As the Municipal District of Taber council shifts focus to 2019 ventures, it allows a chance to review 2018 work and also evaluate what's to come in the new year. With Merrill Harris taking over as M.D. reeve this past October, his time at the helm of the ship has been limited though he has been on M.D. council since 2013 as the Division 1 councillor.
January 31: There's no place like home. For some of the student body at Hays School, that home just happens to be smaller than most. Hays School is holding a tiny home gala today at the Hays Civic Centre which will include dinner, silent auction items and entertainment.
With a provincial election on the horizon, Alberta parties are gearing up for the push for office. While the new Cardston-Siksika riding will see a race of its own, the current Little Bow MLA Dave Schneider announced last spring he would not be seeking re-election. Even though he won't be looking to keep the position, Schneider still has some goals he wants to accomplish before leaving office this spring.
February 7: On Feb. 14 from 7 to 9 p.m. at the Vauxhall Public Library, they are hosting heArt Night displaying art from local artisans."We wanted to start celebrating community creativity and we wanted to celebrate our local artists or craftspeople in the area. We have so many talented people so we wanted to showcase it in the library," said Lucy Norris, a Vauxhall Public Library board member.
After Municipal District of Taber council voted to apply for water rights on 18 quarter sections from Bow River Irrigation District at a special meeting last month, they received correspondence back on which were successful. Of the 18 quarter sections of M.D. owned land, 14 were successful while four were not accepted due to capacity restrictions and of the 14 successful parcels, six would be available for inclusion in the district.
February 14: As the calendar continues to creep closer to March Madness for zones in basketball, the Vauxhall Vikings boys basketball team are finding they are playing some of their best ball on the court in recent games. The last two weekends have netted the Vikings a tournament championship in Vulcan this past weekend and a consolation title in Taber at the Rebel Classic in early February.
Multiple charges have been laid thanks to the efforts of multiple departments spanning two countries, stemming from 10 bomb threats. Thirty-six-year-old Justin Bagley of Elkville, Illinois has been charged with 11 counts of felony disorderly conduct in connection to a series of bomb threats made in the Town of Taber that spanned over three days.
February 21: The often talked about Vauxhall/Highway 36 rest stop area is starting to move towards getting started, as Municipal District of Taber council were presented with a partnership agreement. The project is expected to have a 6.96-acre paved parking lot with washroom facilities, and an area for heavy trucks to park and drivers rest. The M.D. of Taber currently owns land including a 9.17-acre parcel directly adjacent to the Town of Vauxhall, east of Highway 36, which is being eyed for where the project will be located.
In a new Alberta Municipal Spending Watch Report from the Canadian Federation of Independent Business, the Municipal District of Taber is rubbing shoulders with rarified company after securing a top 20 ranking. The report compared the operational budgets of cities, towns and counties in the province. Out of 182 ranked municipalities with populations of 1,000 or more, the Municipal District of Taber comes in with the best grade at 17, the Town of Taber is ranked at 71 and the Town of Vauxhall follows at 85.
February 28: Vauxhall peewee Sabres hockey team will be front and centre in late March, when the town is set to host peewee Tier IV provincials. A squad of 11 dedicated players, it is a Vauxhall and district team made up of players also from Scandia.
With changes to federal legislation which now allow law enforcement officers to conduct alcohol screening for drivers without cause, Vauxhall town council was interested in what kind of results have so far been witnessed by Taber/Vauxhall RCMP. "It's fairly early into it, and as far as impaired drivers go, we don't appear to be any higher with our numbers than we were last year at the same time," said Sgt. Gord Yetman.
March 7: While it certainly isn't baseball weather outside, the Vauxhall Community Hall was decked out in all things baseball for this year's Vauxhall Academy of Baseball Awards and Fundraising banquet. Past banquets have featured a plethora of different Toronto Blue Jay-related personalities, and this year was no different as the featured speaker for this past weekend's event was former Blue Jay first base/outfield coach, Tim Leiper.
As a deepening scandal in Ottawa surrounding the SNC-Lavalin affair continues to rock Prime Minister Justin Trudeau's Liberal government, Bow River MP Martin Shields expressed disgust over what he considers a gross abuse of political influence. "As a Canadian — I'll put it that way first — one, I'm disappointed, I'm saddened, sometimes a little angry," said Shields.
March 14: The cream of the region's youth rose to the top this year at the APEX Youth Awards with four deserving finalists accepting the premier honour. The gala event would see Tina Dyck, Peter Wiebe, Madison Waugh and Samantha Delanoy take home $1,500 bursaries from APEX's major sponsors Avail CPA, Legacy Dodge, Taber Citizens on Patrol, and South Country Co-op. Vauxhall's Samantha Delanoy will be using her bursary to pursue a career as a nurse.
In what looked like a long delay for the upcoming spring season for the Vauxhall Academy Jets, now has clearer runways for the team to take off to a successful season. Long drawn out periods of heavy snow coupled with -30 Celsius temperatures had prognosticators as late as the academy's recent fundraiser earlier this month cracking jokes about when the team would be able to hit the field. Nevertheless, the last week-plus has had Mother Nature co-operating where the Jets look to hit the field this weekend in Lethbridge at Lloyd Nolan Yard.
March 21: The Vauxhall atom Sabres had a banner moment over this past weekend. The top team in Claresholm was waiting for them to play for the banner. The first game went Vauxhall's way as they walked away winning 8-3. Friday night saw the team come home and battle to try and close out the series. Unfortunately, the team couldn't grab a win as it needed three overtimes to find a winner and the Sabres came out on the wrong side. The team travelled back to Claresholm for the third and deciding game of the series and like Game One, the team travelled into enemy territory and won, but this time they brought home a banner.
March 28: With the Municipal District of Taber under the clutches of abandoned oil and gas infrastructure, a new company is hoping to re-purpose the land for small-scale solar generation. Over the last four to five years, the M.D. of Taber has reserved approximately $2.2 million for uncollectible tax revenue due to bankrupt oil and gas companies and RenuWell Energy Situations is hoping to turn the liabilities into assets for municipalities.
After months of discussions around the conversion of Municipal District of Taber dryland leases to irrigation, a decision has been made. A motion was made to proceed with the deposit on the water rights and was defeated 4-3 with Murray Reynolds, Merrill Harris, Jen Crowson and Leavitt Howg opposing the motion.
April 4: With changes to how elected officials are taxed, Vauxhall town council have approved a $50 increase per month in remuneration. After the federal government elected to eliminate the one-third tax exemption for elected officials, the topic was brought back for council. A motion was made to increase remuneration by $50 per month, per councillor and was passed 6-1 with Phillips opposing the motion.
Retlaw Prairie 4-H members talked their way to the top at the 4-H Regional communications Competition at Lethbridge College. First-year junior member, Ella Odland, placed second in her category, Vane Ferguson snagged second place in the Intermediate category, Jessie Ferguson placed first in senior presentations and Chelsey Mills competed in the Regional Communications Competition.
April 11: With the provincial election nearing, Cardston-Siksika constituents living in the Vauxhall area were able to hear views and platforms from candidates vying for the MLA job.
Joseph Schow for the United Conservative Party, Kirby Smith for the New Democratic Party, Casey Douglass for the Alberta Party and Independent Ian Donovan were front and centre for a chance to make points on a variety of issues.
With 2019 well underway, Vauxhall town council was given a quick projection of what their 2019 tax base may look like. In terms of property assessment, there was a small change projected in Vauxhall from 2018 to 2019.
"Overall the market value change due to market conditions in the Town of Vauxhall, for the residential properties you are looking at a very minor decrease in value," said Lance Wehlage of Benchmark Assessment.
April 18: There was a moment on election night when UCP supporters in the Cardston-Siksika constituency might have felt a flicker of worry.
But, that passed quickly after the first poll results showing an NDP lead in the riding were replaced with a commanding lead by Joseph Schow that never relented. Then shortly after 9 p.m., with still plenty of polls yet to report, Schow had a big enough lead to be declared the winner.
April 25: Spring is in the air, and with it, thoughts of the Vauxhall and District Canadian Foodgrains Project come as farming equipment is seen on the land with regularity. The organizing committee met earlier this month to finalize the plans for its local project for 2019. Van der Hoek Farms has agreed to rent the project a field about 2.5 miles east of Highway 36, on the Hays highway (Highway 524). Seed has been donated by Carl's AgVentures.
Planning for a skeet/trap range at the Municipal District of Taber Shooting complex is well underway as the spring weather hits southern Alberta. Administration stated construction would best be served at the beginning or end of the season, but right now there isn't a fit in between their other projects.
"Our early and late season work is quite full (for 2019)," added Craig Pittman, director of infrastructure.
May 2: To say the Taber Regional Fire Department had a busy Easter week would be an understatement, the funny thing is, it hasn't been the busiest stretch in recent memory. Station 5 (Vauxhall) was called to the scene south of Vauxhall on Easter Sunday where an innocent-enough target shooting incident turned into a numerous-acre fire that had to be contained.
Vauxhall Academy of Baseball Jets head into a home doubleheader with plenty of momentum, having won the PBA Showcase for the fourth-straight year over the weekend in Lethbridge.
May 9: With focus shifting to new sources of energy in Alberta, Vauxhall town council was briefed on updates from ATCO Gas' side of things.
"One of the challenges right now is the energy landscape is a bit confusing. We talk about power in kilowatts, gas in gigajoules, gasoline in litres, propane in litres, oil in barrels and it is kind of hard to compare the energy sources," said Shane Ellis, ATCO's Lethbridge manager.
With capital equipment purchases complete for the Municipal District of Taber, a surplus equipment list has been prepared for all units being replaced. This year sees 10 pieces of equipment on the list going up for bid with the public opening of tender bids scheduled for May 24.
May 16: The Municipal District of Taber has been noticing a trend of late tax collection and as a result, have been exploring moving their usual tax collection date up. With the collection date currently in November, they have been seeing a shortfall in revenue once that particular day comes and passes. "The taxes are paid on or before November 15 to avoid the five per cent penalty. Any taxes remaining after December 31 each year have a penalty of 12 per cent that is applied to the outstanding amount," said Coun. Jen Crowson at the M.D. of Taber's Annual General Meeting on April 30.
Come this November, the current franchise agreement between the Town of Vauxhall and ATCO Gas expires. With a few months before it does, an ATCO Gas delegation was in council chambers to lay out what a potential new deal would look like and the few changes that come with it. The current fee in Vauxhall is 5.5 per cent of ATCO's revenue, while neighbouring municipalities who use Method A such as Taber, has 20 per cent (35 per cent for high usage), Barnwell is 13 per cent, and Coaldale which is also 13 per cent.
May 23: 4-H has helped change Jessie Ferguson's life for the better, as her public speaking skill has earned her provincial acclaim.
Ferguson has been in 4-H now for seven years, starting her journey when she was in Grade 4, where simply getting out of her comfort shell was the goal, let alone earning a provincial public speaking title through 4-H.
A dynamic duos first foray into Canadian baseball hopes to be a big one, as a new coaching staff is taking over the reins of the Vauxhall Spurs program. Dru Sebastian is the head coach, coming out of a junior college program from Montana, while also playing four years at a Div. I school. Sebastian will be looking after the pitching for the Spurs while his assistant Rolando Martinez will be coaching up the hitting.
May 30: A major water supply project in the Vauxhall area is heading towards completion after two years of planning and construction. The estimated $2.65 million Prairie Gold Produce (PGP)/Vauxhall and District Regional Water Services Commission (VDRWSC) project is hosting their grand opening on June 10 as the construction work wraps up.
Long-serving Municipal District of Taber chief administrative officer Derrick Krizsan was recognized by his peers earlier this month in Kananaskis with the Society of Local Government Manager's Award of Excellence. The SLGM Award of Excellence recognizes the efforts, contributions and continuing learning process individuals make in their pursuit of excellence and desire to have a positive impact on or in their community in relation to the field of local government management.
June 6: Chase Plumb of the Retlaw Prairie 4-H Beef Club has been crowned king of the Taber and District 4-H Show and Sale this past weekend at the Taber Agri-Plex. He earned the title as the handler of the Grand Champion Steer at this year's show, being a veteran of 4-H despite his still relatively young age.
After finance committee recommendations were forwarded to the Municipal District of Taber council, they have passed their 2019 operating and capital budgets. The 2019 proposed operating budget projects a $535,422 deficit compared to a $520,552 deficit in the 2018 budget. The new budget also includes a non-cash expense of $4,412,479 for amortization. Net capital transactions total $2,178,015, previous year deferred revenue is $3,956,458, amortization is $4,412,479 and change in cash is $896,009.
June 13: The Vauxhall Academy of Baseball Jets were front and centre last week, as its program officially wrapped up for the year with the annual Celebration of Achievement at Vauxhall High School.
Highlights included the academy giving a special commemorative statue and certificate to Yukio and Barbara Kitagawa in recognition of their Pennies for Ks campaign, where the continued cycling program has raised over $225,000 for the VAB.
The Municipal District of Taber has implemented some changes to their water rates after a few recommendations from the finance committee were brought forward. With these recommendations, council discussed further changes to the rates as the recommended option was to have the fixed water charges for the hamlets be maintained at the 2018 rate and the overage rate be adjusted to a rate of $1.87 per cubic meter.
June 20: Taber and District 4-H is continuing to celebrate and remember one of their biggest supporters for the past few decades, Bruce Milliken. After passing away this May, people from the 4-H community have pointed to Milliken's unwavering support of the program throughout his entire life.
On top of that instrumental support, those from his 4-H days remember Bruce as not only a 4-Her but as a community-minded individual who put others before himself.
Vauxhall Elementary School's long-running principal is retiring after a 40-year teaching career.
Since taking over the principal chair in the early 2000s, Dale Cummings is heading towards a well deserved retirement once the current school year reaches its conclusion.
June 27: Last Wednesday at 11:21 p.m. Station 4 and Station 7 were alerted to a report of a 'lightning strike' and fire located north of Township Road 10-2 east of Highway 36. Upon arrival at the scene it was determined the fire was in fact a full-scale oil storage site. The duty officer immediately requested a second and a third alarm to Station 2 (Grassy Lake) and Station 5 (Vauxhall) as well as water trucks from four water haulers including the M.D. of Taber.
Sharon Skretting has been part of the community of Vauxhall for the last 33 years. Now it appears she has very good reason to be there a while longer. In mid-March, it was announced by the Horizon School Division that Skretting would be the new Vauxhall Elementary School principal as she takes over from Dale Cummings who is retiring.
July 4: After briefing Municipal District of Taber last November, Aura Power was hoping to walk away with a firm commitment from council. M.D. council carried a motion to refuse the application because 'the site was determined to be unsuitable for the proposed use as it is situated in an area which may be prone to erosion' and 'the information submitted with respect to potential effects of the development on the aquifer, including potential impacts to surrounding users of the aquifer, was deemed insufficient.'
July 11: Vauxhall native Brock Skretting has worked hard at establishing himself in the Alberta film industry. He has been an assistant director on television shows Wynonna Earp and Jann to a production assistant on CBC's Heartland to a trainee production coordinator on the Academy Award winning film The Revenant. Now as the head of advocacy for the non profit organization Keep Alberta Rolling, Skretting is working hard to establish Alberta on the North American and world stage for film production.
July 18: A strong homestand sewed up top seed in the upcoming district tournament later this week for the Vauxhall Spurs baseball club, although a tough American road trip has kept the team grounded.
The Spurs officially wrapped up first-place seeding early in the district tournament with a doubleheader sweep (5-3,15-5) over Tri-County Cardinals last Tuesday at Jets Stadium.
July 25: Hays area farming operation Linrich Farms have been crowned a 2019 Farm Family at this year's Calgary Stampede. Richard, Linda and the Huvenaars family were in attendance to accept their award at the Stampede.
August 1: The Vauxhall Community Hall will no longer be the hot box that it once was. Air conditioning is coming to the facility sooner than later after discussions between town council and the Vauxhall Ag Society have continued moving in the right direction. Councillors discussed the terms of getting it set up as the ag society offered a $20,000 donation to get things rolling.
August 8: The Vauxhall Spurs made history last week, winning the Montana Class 'A' State Tournament in Florence. The Spurs defeated host Bitterroot Bucs, but not before setting the tone as a team of destiny by issuing an opening statement game with a 6-0 blanking of Dillon Cubs.
August 15: Since taking over as the provincial government in April, the United Conservative Party is continuing their push to create a better environment for jobs in Alberta. During the campaign before the provincial election, Jason Kenney had promised to cut corporate taxes down to eight per cent from the current 12 per cent.
"Again, promise made, promise kept with the UCP," said Cardston-Siksika MLA Joseph Schow.
August 22: While agriculture and weather are never certain, barring some unforeseen circumstance, Taber corn will be available for Cornfest-specific events along with some available for consumption at vendors in the aftermath of a severe hail storm that engulfed Barnwell and surrounding areas.
That being said, consumers who look forward to the summer treat every year are encouraged to get their fill early depending on how long supplies will last.
August 29: With the NDP's previous farm safety legislation, Bill 6, now set for a date with the chopping block, Alberta's UCP government is consulting with stakeholders in the agriculture sector on replacement legislation expected to be introduced this fall.
Last Tuesday at the Heritage Inn in Taber, producers and ag industry stakeholders gathered for an open house and roundtable discussion on the new legislation, where Agriculture and Forestry Minister Devin Dreeshen highlighted some of the shortcomings of the previous Bill 6, or the Enhanced Protection for Farm and Ranch Workers Act.
September 5: With plenty still on tap for the M.D. of Taber's public works staff, some shuffling of projects was requested by the heads of the department.
"We are proposing a change in operations and what we are proposing is to combine our shoulder pull (reshape roadway/driving surface and shoulders to an acceptable cross section) and the construction crew," said Kurt Carver, projects supervisor and co-director of public works.
September 12: Even though summer is fading, that doesn't mean the baseball season is over just yet. With the start of another school year means another Vauxhall Academy of Baseball Jets fall season, which kicked off last week in the team's annual Spirit Week game at Jets Stadium. While the Jets took the early lead, they would eventually fall to PBA 7-3.
September 19: With a school regularly known for other athletic pursuits, Vauxhall High School made some history by winning mixed golf zones in Vulcan earlier this month.
The team of Max Grant, Brittney Kambeitz, Ashley Wickenheiser and Maddux Mateychuk did indeed put the work in and earned the school a zone banner where each golfer had time to shine and contribute to the squad's overall score.
September 26: With the ATCO Gas franchise agreement due this coming November, Vauxhall town council was eager to define new terms for the deal well before the date came up.
A motion was made to increase the ATCO Franchise agreement to a 10 per cent franchise fee and to collect linear tax and was carried unanimously.
October 3: Come late November, the Municipal District of Taber is preparing for three pieces of land to be available in a tax recovery sale.
The lands in question are located at Plan 4072GX, Block 3, Lot 36 in Division 5 with a reserve value of $12,000; Plan 9510190, Block 1, Lot 1, in Division 3 with a reserve value of $102,000; and Plan 7285 AQ, Block 7, lot 15 and 16 in Division 6 with a reserve value of $6,000.
October 10: With less than two weeks now remaining in the 2019 federal election, local voters were given the opportunity to challenge candidates vying for a seat in Bow River during the election forum hosted at the Taber Legion Hall last Wednesday.
Candidates in attendance were Martin Shields, Conservative Party of Canada; Lynn MacWilliam, New Democratic Party; Tom Ikert, People's Party of Canada; and Tom Lipp, Christian Heritage Party.
October 17: Vauxhall town council has raised the Fortis Franchise Fee by another two per cent for the upcoming year.
While the fee was set at two per cent in 2017, it was raised to four per cent last year and now council has decided to bring the fee up to six per cent for the coming year.
October 24: Following an incredibly tight race to the finish line on the national hustings, there were few questions about who was on top in Bow River as incumbent Martin Shields and the Conservatives cruised to a landslide re-election victory in the riding on Oct. 21.
"It was tremendous support across the riding, it's humbling to win by that percentage," said Shields in an interview with the Advance on Tuesday morning.
October 31: Last week saw the drop of the provincial budget from the United Conservative Party.
Reactions have been all over the map in terms of support across Alberta, but members of the UCP are confident in the steps the budget is taking to get the province out of debt.
"It's a great budget, we're very excited about it. It was another of our campaign commitments and it puts us further on track to keeping our promise," said Cardston-Siksika MLA Joseph Schow.
November 7: It was a clean sweep for the Vauxhall High School volleyball programs at the Monster Smash tournament in Vulcan over the weekend, as both the Vauxhall Vikings and Queens teams earned championship titles.
November 14: A resolution has come to fruition on complaints filed against three Municipal District of Taber councillors in accordance with the M.D. of Taber Council Code of Conduct Bylaw No. 1935.
Following an in-camera session at M.D. council's meeting last Tuesday, and after examining the results of an investigation, it found councillors John Turcato, Brian Brewin and Tamara Miyanaga in breach of the Code of Conduct.
November 21: Vauxhall High School was golden at 2A South Zone Volleyball championships at Lethbridge College last week, as both the Vikings boys and Queens girls took home the banner and earned a trip to provincials.
November 28: Many physicians across the province are rejoicing Bill 207 (conscience rights) dying on the table in the legislature at a committee hearing late last week at the Alberta Federal Building.
One of those physicians was Dr. Jill Demontigny with the Taber Clinic, who made the trip to Edmonton herself to see Bill 207 voted down, after writing several politicians with her objections to the proposed bill by Peace River MLA Dan Williams who introduced Bill 207 on Nov. 7.
December 5: Fallout from the United Conservative budget has been spread across the province but one concern that hasn't concluded as of yet is policing costs.
"Best case scenario, under $10,000, medium case scenario is $30,000 and the worst-case scenario is $50,000," explained CAO Cris Burns at the Nov. 5 town council meeting.
December 12: All Vauxhall Vikings' boys basketball team head coach Daryl Johnson wants for Christmas is more attention to defence, as his team nears entering the holiday break.
The Vikings fell 82-80 on a buzzer beater to the St. Mary Celtics to open up its River Ridge Basketball League season on the road on Tuesday.
December 19: As part of sanctions levied against three Municipal District of Taber councillors, apology letters directed to council were released to the public.