M.D. reeve hopeful for 2020 success
Posted on January 23, 2020 by Vauxhall Advance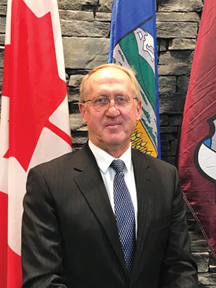 REEVE MERRILL HARRIS
By Cole Parkinson
Vauxhall Advance
cparkinson@tabertimes.com
While looking back at 2019, the Municipal District of Taber is hopeful to continue forward into a successful new year.
While 2019 presented its fair amount of highs and lows for the municipality, one thing council has continued to praise throughout the years is their employees.
"I am proud of our employees, they are what makes anything and everything happen in the M.D. Whether it is water treatment plant operators, road graders, snow plow operators, spray truck operators or our administration staff, each of them are dedicated and committed to providing the service level that M.D. residents expect of them. Also, our firefighters are outstanding. They are ready at the sound of the dispatch tone to respond to whatever it is they are called to do, fire, MVC (motor vehicle collision), train derailment et cetera. A big thank you to the employers, who allow these brave women and men to serve their community," said Reeve Merrill Harris.
Oil and gas decline throughout the province remains one of the lows for the municipality and that is likely to continue well into 2020.
Even with that in mind, the M.D. is looking to future development that will help offset those costs lost due to oil and gas decline.
"The troubles in the oil and gas sector are not going to turn around anytime soon. The oil fields in the M.D., we may never have the drilling activity and exploration that happened in the past. We have to look at other opportunities to expand our local economy. Economic development and new business attraction will have to replace the tax base we have lost from the defunct oil and gas companies," added Harris.
An exciting and interesting prospect that has been presented to the M.D. is the RenuWell project which sees abandoned oil and gas exchanged for solar and renewable.
"The RenuWell project, using abandoned and orphaned oil wells, converting these sites to small scale solar generating facilities, perhaps will replace some of the lost oil and gas assessment for the municipality. Once all the regulatory requirements, taxation issues and connection to the grid issues have been dealt with, this project will be a model and guide throughout the province. With the abundant sunshine this area gets, as well as the number of abandoned oil sites in our M.D., this type of project can be a win/win for the M.D.," continued Harris.
Even with the loss of oil and gas revenue, the M.D. of Taber is committed to providing the same service level to ratepayers in 2020.
"(We will) continue to provide the service levels that our ratepayers have come to expect but to also see if there are ways we can do business differently to find efficiency both in terms of that level of service but budget efficiencies also. We can't tax our way out of the budget issues that we have. Increasing the mill rate too much does nothing for economic development, it makes it unattractive to new businesses wanting to set up shop here," stated Harris.
For 2020, the interim operating budget has been set with a deficit for the municipality of $314,609. Municipalities are allowed to budget deficits up to their amount of amortization, which is at $4,438,414 for the M.D. Mill rates in 2020 see increases by two per cent for residential and non-residential property and 10 per cent for farmland property. 
Due to the provincial United Conservative's budget seeing many cuts that affects municipalities, the M.D.'s budget saw quite a bit of change compared to prior years.
One of those additions in the UCP budget that sees a heavy hand in raising the deficit for the M.D. of Taber is due to municipalities now paying for their policing.
"First, the police model costing. We have been informed that our municipality will now be charged $194,241 for policing beginning in the 2020 budget year. The bill is not due until January 2021, but it will go into the books in the 2020 year. If we knew what additional service, or the number of new officers we will be getting for this additional cost, we would feel better about this new budget item. This amount will increase each year for the next five years to $583,139. This additional budget line item means additional savings will have to be found, or a tax increase to cover this additional expense," explained Harris, who also touched on how assessment could potentially affect the municipality further in 2020. "Second, the Ministry of Municipal Affairs is also looking at the way assessment is being done, especially as it relates to linear or non-residential class (oil and gas). Rumours are floating around that the assessment model could change (decrease) assessed values by as much as 33 per cent. A 33 per cent reduction in the assessment will also have a huge impact on the municipal budget. As I have said before, the oil and gas sector contributes about 70 per cent of the tax collected in our M.D. A 33 per cent reduction in assessment will have a huge impact on revenue."
While 2020 is still in the early stages, Harris hopes everyone in the M.D. of Taber has a happy and successful year ahead of them.
"On behalf of council, we wish everyone a prosperous New Year. That the rains will come at the right time for the dryland areas, that there will be adequate snow in the mountains to supply the irrigation districts and adequate water for the irrigated areas. We also hope that the hail storms will stay away and that the region enjoys the weather needed for all the crops to grow and be harvested, 2019 was tough for many. Also, as a province and country as a whole may find peace and prosperity."