Separation bad for business; Toews
Posted on March 12, 2020 by Vauxhall Advance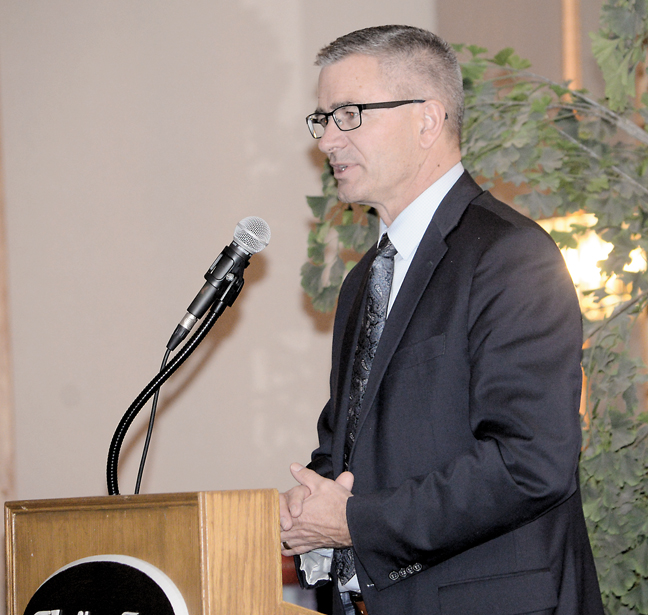 SPEAKER: Travis Toews was one of three provincial ministers to speak at a UCP party fundraiser at the Heritage Inn on Saturday night. ADVANCE PHOTO BY GREG PRICE
By Greg Price
Vauxhall Advance
gprice@tabertimes.com
The howl of Alberta separation continues in the province as many Albertans feel they are not getting a fair shake in Confederation.
Alberta Minister of Finance Travis Toews highlighted some of that frustration at a UCP fund-raising dinner at the Heritage Inn in Taber on Saturday, but cautioned how far Albertans should go with that threat.
With fiscal transfers to Ottawa, Toews noted in the last five years, Alberta's net fiscal contribution has been over $100 billion dollars.
"On a per capita basis, that is about $4,800 per Albertan per year. The next closest is British Columbia at around $1,500. Ontario comes in at around $1,100. Saskatchewan is at about $300. All the other provinces are recipients," said Toews.
"That gives you an idea that even in Alberta's challenging economy, we are by far and away the most significant contributors to the nation fiscally. It has been challenging for us as Albertans in making this outsized contribution, and we've seen a federal government largely stand in the way of continued economic development, growth and prosperity, when in fact the nation as a whole has been a recipient of that prosperity."
In Toews' travels across the country, he highlighted how there isn't a bridge, school or hospital across the country which hasn't benefited from Alberta's fiscal contribution.
"The nation needs to understand that," said Toews, adding that is why Premier Jason Kenney appointed a Fair Deal Panel, talking of initiatives such as a provincial police force, Alberta Pension Plan, and Alberta Revenue Agency. "These initiatives, if adopted and implemented individually, could perhaps provide Alberta with more autonomy and more of an ability to determine its future with Confederation."
Toews hears the battle cries of separation among many UCP backers, and as a life-long Albertan understands the frustration. But visiting with possible investors in the province, be it Bay Street in Toronto or in New York, Toews hears of the hesitation when separation is brought up.
"If there is anything that will scare off investment in this province, it is talk of separation. If we take a look at Quebec, we take a look at the economic backwater that they've become in the last 20 to 25 years, the investment community will say it is because they have flirted publicly and openly with separation for too long," said Toews. "We need to do all we can to determine our own destiny in this province, but there are great risks if we flirt with the concept of separation. I don't want to be condescending to anyone of you who really believe it as a potential solution. But, I'm just sharing with you the fiscal and investment realities out there as we discuss separation as an option. We need a fair deal in Confederation full stop. This government will work hard for Albertans to ensure we get that fair deal."