New ASBG president from a generational farm family
Posted on May 14, 2020 by Vauxhall Advance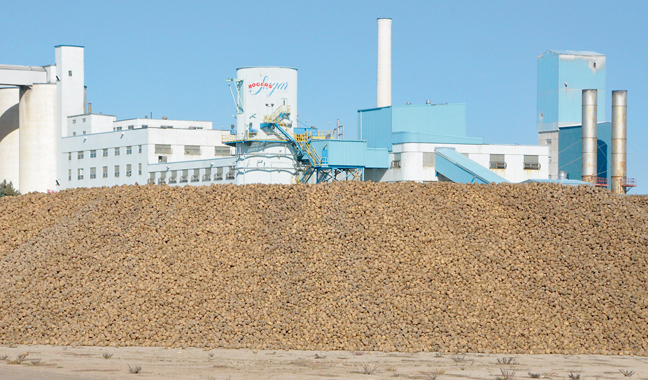 ADVANCE FILE PHOTO
By Heather Cameron
Alta Newspaper Group
Gary Tokariuk is the new President of the Alberta Sugar Beet Growers. Tokariuk is the third generation to run his family farm, which started in 1928 and progressed to growing sugar beets in 1949. He himself has been running the farm since his father passed away in 1986.
"Both my wife and I have degrees in agriculture, so we've worked hard to keep that in the family," Tokariuk said. "We're farming seven quarters right now on the farm."
His daughter, Tokariuk says, shares the family passion for farming and has a degree in agriculture that helps her in her work as a field person for Lantic Sugar, so he hopes to pass the responsibility on to her once he retires. Tokariuk also has a son who has graduated from the University of Lethbridge with a degree in Education and twin boys, one of whom is a mechanical engineer while the other is a physicist.
Before becoming president of ASBG, Tokariuk worked as a director for Division One of the St. Mary River Irrigation District and being a part of his local sugar beet board. His previous experience with ASBG, Tokariuk says, began in 1999 following the expansion of the plant and his roles included being on the board until 2005 and serving as vice-president. Tokariuk admits to truly having his hands in everything he can over the years.
"My dad's philosophy was if you don't get involved, you can't complain," Tokariuk said. "I'm not a complainer, but when we were at the annual meeting and I gave my speech, I talked about the past and my experiences. The final keynote speaker then basically came out and said, "Don't worry about the past; the past is past."
Tokariuk, however, believes that one must know and acknowledge where they've been to know their destination.
"I actually had considered running for president back in 2005 when I was done serving on the board, but we had a sunset clause and I had a young family to think of, so I didn't know if I could commit to it. At this point in my life, however, I have good health and I sold my cattle to my daughter. I have time to work on this now and I want to see the industry thrive and survive."
At the first meeting he attended as president, Tokariuk says, he quickly noticed places where he could contribute. Tokariuk admits the downside of the meeting was the fact that it had to be a phone meeting due to the COVID-19 crisis, as he prefers in-person meetings and interactions.
"When Arnie (Bergen-Henengouwen) decided to step down, I thought it was another challenge that I was up for, but I didn't realize we have to negotiate a contract and have all this COVID-19 stuff show up all at once," Tokariuk said. "I don't think anybody anticipated it would be that fast and so disruptive to people's lives."
Tokariuk says with the problems caused by COVID-19 increasing every day, concerned farmers have been calling him and are wondering if it is even worth it to plant a crop this year, as the crops will go to waste if factories shut down. Fortunately, Tokariuk says, ASBG got told by the government that sugar and flour mills are considered essential services and are not shutting down. Having sugar and flour mills considered essential services, Tokariuk says, is a relief after last year's crop was poor and cut short due to storms. Everyone, Tokariuk says, is worried about planting this year's crop and then having the plant shut down without accepting beets, but that fear has been alleviated for the moment.
"You really have to hand it to Lantic, as they are being very cautious about the situation," Tokariuk said. "People have to get their temperature taken every time they go on their shift and they split shifts so there's not a whole bunch of people in the plant at a time. They're doing their bit and I'm pretty comfortable that we'll process the crop and have no problems there."
Harvesting is still a long way off, Tokariuk says, but it is very expensive to plant a crop of sugar beets and ultimately not be able to harvest them. Last year's crop was very well insured, Tokariuk says, but the loss of a second crop in a row would be very traumatic for a lot of farmers.
"We have a good industry development committee and they've got quite a few irons in the fire and it's a really good chord that we work with there," Tokariuk said. "Everybody seems to have their niche, which contributes to the board and it's a very strong board. I'm impressed with it and I truly enjoy being a part of it. It's still a pretty good thriving industry, so I just want to make sure that that continues."