BRID happy with overall 2021 season
Posted on September 23, 2021 by Vauxhall Advance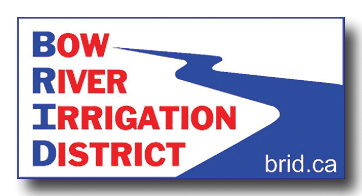 By Cole Parkinson
Vauxhall Advance
cparkinson@tabertimes.com
With a hot, dry summer across southern Alberta, irrigation districts have been relied upon heavily, and the Bow River Irrigation District (BRID) is no different. Heading into the season in early spring, BRID had plenty of good levels and were confident they would be well set up for anything summer brought.
"At the start of the spring, we were basically at regular winter levels, maybe just slightly below. We had a pretty good snowpack in the mountains at the Bow River base, so we were anticipating a fairly easy year based on good storage and good snowpack," explained Richard Phillips, district manager.
And despite those hot temperatures throughout the vast majority of the summer, BRID did indeed have enough capacity for their customers. Thanks to plenty of added acres through expansion over the past several years, BRID was able to keep up with demand.
"We've added a lot of acres — we've expanded a tremendous amount since expansion was enabled back in 2000. We expanded the first time in 2004 and then again in 2012 and again in 2018 where we approved our latest expansion. We're huge compared to what we used to be and we did extremely well this summer. It was really nice to see just how well we did because we added a lot of acres that weren't on last year even. Today, we are looking just fantastic and we never were in any spot this summer where we said 'Wow, we're low on reservoirs, we're nervous.' It was always very good," continued Phillips. "Bottomed out in early August at a little below winter storage levels, perhaps 20,000-acre-feet below winter storage levels, which is really nothing. That's within the normal range historically and we've since rebounded."
Phillips added the levels in mid-September are still very good, as they prepare for winter.
"Today, we're sitting well above the winter storage level and looking to store a little more than normal this winter in Travers and Little Bow, while having McGregor at normal levels. Even with that higher level on Travers, we've still got about 7,000-acre-feet above winter storage that we actually need to get rid of before the end of the year."
"That won't be a problem and we'll irrigate a little and draw a little less off the river. So, we're in excellent shape," he added.
While it's hard to predict what southern Alberta may bring, Phillips' has a similar mindset when each season comes around.
"You never know. My philosophy is to always manage like if you're not in a drought, the next drought starts that afternoon basically because if you have water in storage, you're in good shape. It's nice to see (Alberta) Environment has approved storing more water than normal going into this winter. That way, if it's a bad snowpack, we have that head start for next year," he added.
In reviewing the data up to this point, the amount of water has been in the upper echelon. While it doesn't look like it will be a record-breaking year in terms of water used, BRID is still reporting a higher than average year.
"We have used a tremendous amount of water this year, too. It's been funny there too, there wasn't much rain early in the season. We had a good rain around the May long weekend and then really nothing until August. We ran an awful lot of water from start-up in April right through the end of July. From August until now, we're running well below average. Overall, it will be a high water use year. At one point I was predicting it might be our second-highest ever, after 2001. At this rate, I'll for sure say it will be a top 10 water use year, but I doubt it will be in the top five," he stated. "We did set a new all-time record high daily water diversion out of Little Bow Reservoir. We were running more water in the main canal for a couple of days than we've ever run before. Not surprising because it was hot and dry, and we've got more acres than ever."
And while tons of water was used throughout the summer, BRID is happy they're heading into the colder months with plenty of winter storage. On top of that, winter brings plenty of time to work on projects that need completing before the next spring arrives, and this year BRID has plenty to keep them busy.
"We've got lots on the go this winter. We're replacing a very large drop structure on the main canal out by Enchant. We've done two of those over the last three years and we're doing another one this year. That will complete replacing all of our large old main canal drop structures. That was an important thing that we wanted to get done. It's better to have safe new structures than money in the bank, and we've still got plenty money left in the bank for other projects, but it's good to have those structures replaced," continued Phillips. "We're replacing the inlet structure to Scope Reservoir with a new and improved structure that will also function as a check structure to give us the water levels we want upstream. That will be beneficial for pipelines. We're doing pipeline out at Hays, just coming downstream from Scope Reservoir and doing a couple of pipelines north of Lost Lake. All told, it's about a $9 million year for construction, which is certainly more than average for us. That's a combination of our traditional government program, the Irrigation Rehab Program that was announced last fall between the province, the irrigation districts with the Canada Infrastructure Bank providing a loan for a portion of it."
While plenty of eyes are looking toward the winter now, Phillips also wanted to reiterate how proud he was of BRID staff for how they overcame all the  challenges in a dry, hot 2021 season.
"We're certainly happy with the way the year went. It was an incredibly dry year. I was looking this morning and precip in Vauxhall from April 1 through (Sept. 13) is just barely over half of average. That's exceptionally dry and just really impressed with how well we did in a really challenging year for precipitation and temperatures," he said. "To be in the water situation we're in, I think that's a reflection of the improvements we've made to the district with more pipelines, the pivots that have replaced less efficient methods and good co-operation with our irrigators with their water orders. Good job by our staff, it's been a great year with tough weather."