Vauxhall Foodgrains Project seed in the ground with pig roast coming
Posted on June 9, 2022 by Vauxhall Advance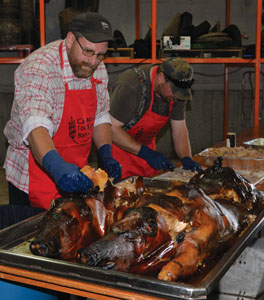 ADVANCE FILE PHOTO
By Cole Parkinson
Vauxhall Advance
cparkinson@tabertimes.com
It's that time of year again when seeds are planted and farmers are hoping for a good growing year. Out in Vauxhall, the Vauxhall and District Growing Project Organizing Committee has hit the ground running and they are hoping to build off a successful 2021.
"We've got some land about eight miles northeast of Vauxhall this year from a local farmer out there. I decided to plant spring wheat and all of the markets looks pretty good this year and spring wheat is a tried and true crop," explained Kerby Redekop. "I didn't want to do anything too crazy. I got it seeded on April 21, so it was decently early and we're off to a good start. We're ready to put some water on it because it is dry out there, so at this rate, we'll end up hitting a record on irrigation if it continues like this." 
While seeding has been completed, there's still plenty of work to do until harvest rolls around at the end of summer. The growing committee will be monitoring the field very regularly and work will continue for the majority of the summer before the combines head out.
"We've got guys checking the field regularly to monitor water levels and also to keep an eye on what weeds are coming. Because of how dry it was last year, we already know we're going to have to spray a couple of times for weeds this year versus just one time normally. We've got one of those herbicide applications down and probably the next one coming (this) week," added Redekop. "So, guys are just checking the field every week to keep an eye on what's going on and so we don't get behind on something. We try to split that work between the land owner that has rented us the land and they are usually good about taking some of that workload because they are used to supervising that land location anyway. And then a couple of other volunteers from the organizing committee will run by the field every once in a while and take a look. There's a few set of eyes on it."
To read the full story, pick up a Vauxhall Advance issue or subscribe to an ePaper digital subscription! You can sign up for digital or traditional subscriptions on vauxhalladvance.com by clicking subscribe under ePaper on the home page.