Potato Growers of Alberta celebrate significant growth indicators
Posted on September 21, 2023 by Vauxhall Advance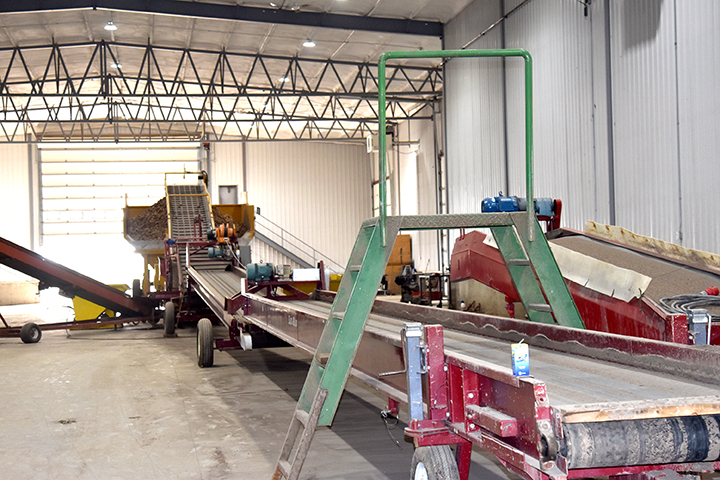 Advance Photo by Meg Noguchi Behind the scenes: Potato grader machinery at the CF Farms near Barnwell during the Open Farm Days in August.
By Erika Mathieu
Vauxhall Advance
Earlier this year, the Potato Growers of Alberta (PGA) published an in depth analysis on the economic impact of the potato industry in Alberta. 
The report, "The Alberta Potato Industry – Growing Success in 2022" summarizes how the province's potato industry has grown over the past few years and quantifies the economic impact of this growth on Alberta's overall economy. 
The quantitative data gleaned from the study was validation for key industry players who were keenly aware growth had been ramping up, but did not have a comprehensive study of the industry's current economic impact. 
In a news release issued by the PGA on July 4, James Bareman, Chair of the PGA said, "We knew our industry has seen accelerated growth in recent years, but we had no way of measuring its overall impact on our economy." 
Bareman added, "We are pleased that we now have an accurate assessment of our industry's contribution and delighted with the result. The industry could not have grown to this scale without the goodwill and collaboration of all parties – growers, processors, packers, the service sector, the scientific community, and governments. PGA warmly thanks all involved for their excellent contribution to growing our industry into the largest potato sector in Canada." 
The Executive Summary of the 28 page report surmises the strong growth experienced by Alberta's potato industry is indicated by "high, stable yields and available area for production expansion" and that these factors will "continue to drive investments by potato processors and packers across the North American and international markets." In addition to high, stable yields, "significant additional expansion" is underway. In March 2023, McCain Foods announced a $600 million investment, the largest global investment in the company's 65 year history, in the Coaldale facility, which is anticipated to double the size and bring hundreds of new jobs to the region.
The report projects that the planned expansion of processing capacity and corresponding potato production will "bring significant economic benefits to Canadians, and most significantly to Albertans."
"For every addition of an irrigated quarter section (160 acres) of potatoes for processing uses, $5 million of total annual output in 2022 is added to the Canadian economy. Within Alberta, this marginal expansion would result in $1.9M in additional GDP, of which about $900,000 can be attributed to wages across 13 full-time jobs."
Increased production coupled with growth in sales volume resulted in the potato industry contributing $2.87 billion to the Canadian economy in 2022, $1.33 billion to Canada's GDP, and $2.31 billion to the Alberta economy.  
Serecon Inc. and Nichols Applied Management conducted the study using methodology consistent with similar economic impact assessments and then later held up to third party scrutiny by an independent, third party economist in Dr. Suren Kulshreshtha of the University of Saskatchewan.
"We wanted to ensure the study was accurate and the methodology was beyond reproach. That's why we went to great lengths to ensure it was conducted in a manner that would pass rigorous external scrutiny," said Terence Hochstein, Executive Director of PGA.
Although per capita potato consumption in Canada is high, the document highlights that the potato industry is one of only a handful of agricultural industries in the province exporting value-added finished goods, rather than raw products. 
The report reads "processing potato product sales, including French fries, hashbrowns, chips, perogies, and others are also undergoing surging growth driven largely by rising export opportunity," including to the U.S. and increasingly, to Asia. 
Given the significant economic impact of the potato industry, and its continued upward trajectory, several ongoing research projects in Lethbridge and southern Alberta are underway to enhance the industry's profitability and competitiveness. 
Dr. Rezvan Kamiri of Lethbridge College is currently the principal investigator on an ongoing research project exploring the effects of bedding preparation time, winter cover cropping and irrigation management on yield, soil erosion and GHG emissions in irrigated potato production in southern Alberta.
Other funded research projects related to the potato industry in southern Alberta include a University of Lethbridge led project which will use agronomy, biocontrol, and outreach to reduce blackleg of potato; a project led by Lethbridge College's Dr. Chandra Singh on the use of non-destructive quality testing of potatoes using NIR hyper-spectral imaging and machine learning; a project by way of Lethbridge College which is creating maps of plant available water with microwave radiometer technology to inform precision irrigation management; and an ongoing PGA-led project where researchers are working to develop a proactive protection plan for potato disease management, to name a few. 
The report concludes Alberta's potato industry is well-poised to contribute significantly to Alberta's and Canada's economies thanks to planned growth for the industry, cutting edge research and innovation, and the continued strength of entrepreneurial spirit among Alberta's farmers.
The complete report, The Alberta Potato Industry – Growing Success in 2022, can be read in its entirety by visiting, https://agfstorage.blob.core.windows.net/misc/FP_com/2023/07/05/App.pdf.